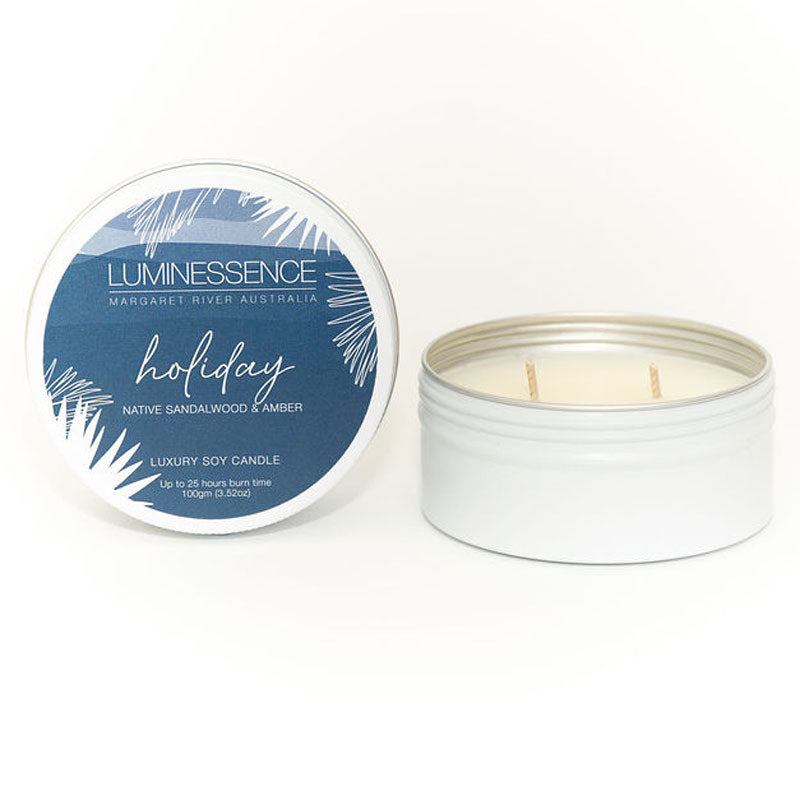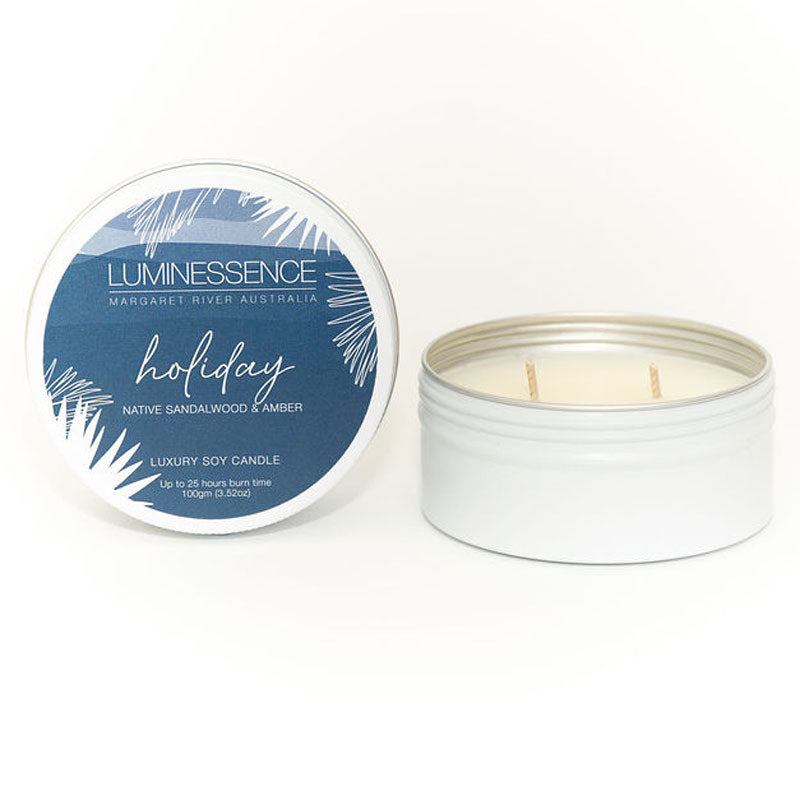 Holiday Soy Candle 100g Tin - Handmade in Margaret River
We currently have 1 in stock.
$21.95
or make 4 interest-free payments of $5.49 AUD fortnightly with
More info
HOLSOY001
HOLIDAY - NATIVE SANDALWOOD & AMBER
Handmade with love in Margaret River, WA.  This stunning soy candle will take you to where adventures begin and memories last forever. A warming perfume with top notes of cedar wood, native sandalwood and patchoulli, middle notes of bergamot and lemon with base notes of amber.
Experience the luxury of Luminessence. Lovingly hand blended and poured on the famous coast of Margaret River, Western Australia. The Luminessence collection was developed to embrace our relaxed coastal lifestyle by the sea. Our candles are made with only the finest ingredients, pure soy wax and cotton wicks that provide a long clean burn. Up to 25 hours.

Specifications:
100g tin, perfect for travel, desk, office or home. Can be re-sealed with the tin lid.

Up to 25 hour burn

Material = pure soy wax and cotton wick
Pure Soy Candle Care
To guarantee the perfect burn of your soy candle, always burn both wicks at the same time until the soy wax melts out to the side of the container. This creates an even burn otherwise you may get soy wax remaining along the sides of the container. Never burn your soy candle less than 1 hour and longer than 3 hours at a time. Always trim the wicks to 1/4 inch before burning, this also helps avoid the tin turning black. Always leave at least 1cm of soy wax at the bottom of the container. Do not let the candle burn lower than this, as the flame will continue to heat the wax. WARNING never leave a candle burning unattended.
Appearance of your soy candle.
All our luxury pure soy candles are hand made using only the finest soy wax available. Sometimes soy wax may not adhere to the tin causing a wet look or frosting to your candle. This is not a defect but a blemish that happens when using soy wax and climate changes. It will not effect the candle in anyway but is just a natural occurrence. Also due to the colour difference in fragrance oils we use, some candles may darken over time, or turn a bright yellow colour due to the sun or near fluorescent lights. This is not a fault, it is purely the fragrance oils. The only thing that stops this happening is a toxic additive that we wish to not add into the candles as we like to you to know that you are burning a truly clean pure soy candle.